Discontinued item guide 2009
Valentine's Day
Placed on the Valentine's Day pet page.
Available: 2009-02-14
Valentine's Day Exclusive

Angel Wings

Flower 'Tail Bracelet'

Speech Bubble

Speech Bubble

Lipstick Kiss

Heart-Shaped Glasses

Cupid Arrow

Arrow Quiver

Chocolate Box

Hearts

Cupid Wolf

Red Rose

Leopard Plushie
These items fit:
dogs
April Fools Day
Originally, on April Fools, a wide variety of silly items were given out.
However, on April 2nd all of the items reverted into one of these glasses. Available: 2009-04-01
April Fools Day Pack

Silly Glasses 1

Silly Glasses 2
These items fit:
dogs
St. Patrick's Day
These items were released to celebrate St. Patrick's Day.
Available: 2009-??-??
St. Patrick's Day Item Pack

Shamrock Leaf

St. Pat's Socks

St. Pat's Shoes

St. Pat's Hat
These items fit:
dogs
Easter
These items were exclusive to forum members. An egg banner was available every 4 hours (originally 12 hours but changed during the event). By clicking the banner, the user received a random item form the pack bellow. Available: 2009-??-?? - 2009-??-??
Animals Eggs and Bunny Items

Rabbit Ears

Floppy Rabbit Ears

Rabbit Nose

Animal Egg 1

Animal Egg 2

Animal Egg 3

Animal Egg 4
These items fit: dogs

This was a free item pack. Available: 2009-??-?? - 2009-??-??
CS Birthday
This pack was given out in celebration of CS's first anniversary.
Available: 2009-04-10
CS's First Birthday

Anniversary Bow 2

Anniversary Bow 1

Party Hat 1

Party Hat 2

Party Hat 3

Party Hat 4

Party Hat 5

Party Hat 6

Party Hat 7

Party Hat 8

Confetti

Cake Slice 1

Cake Slice 2

Cake Slice 3

Cake Slice 4

Blower 1

Blower 2

Blower 3

Balloon Lion Plush

Cupcake Mouse

Butterfly Wolf

Party Kitty
These items fit:
dogs
August
This pack was available Malk's adoption page.
Available: 2009-07-?? - 2009-08-??
Malk Fairy Pack

Blue Fairy

Grey Fairy

Yellow Fairy

Purple Fairy

Red Fairy

Green Fairy
Staff Birthdays
This pack was released to celebrate Tess's birthday.
Available: 2009-09-10 - 2009-09-??
Tess's Birthday Pack

Doggy Birthday Balloon 2

Doggy Birthday Balloon 1

Cat Birthday Balloon 2

Cat Birthday Balloon 1

Bunny Birthday Balloon 2

Bunny Birthday Balloon 1

Rainbow Tess Birthday Sign

Squiddy Birthday Balloon
Halloween Items
For Halloween '09 every user got three different trick-or-treat bags as a free gift.



A candy hunt was available from the 22nd of Oct to the 10th of November 2009. It worked just like the bunny hunt in April where users had to hunt on the forum at the bottom for a banner. The banner would then give out one of these items:




You could exchange the three candies in the store for items and pets.
Here's the items that were available for purchase with candy:















A Pumpkin set. This included two pumpkins and a bunch of different holes. 15 items in total.




















5 different colored rat costumes. Costumes come with feet, wings,tail and antennae

A set of 5 bats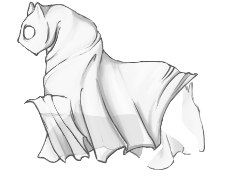 A horse outfit







A pack of Halloween candy

A green monster plushie
Thanksgiving Giveaway
There were two sets of items released in the CS store from Nov 19th 2009-Nov 28th. They included a pilgrim set and a food set.






December Advent Packs
December 3rd








December 6th







December 8th - Wolf plushies!






Dec 13th - Horse Plushies!







Dec 18th Christmas tree items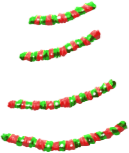 Dec 19th - Snowmen Pieces


















December 24th







Dec 25th-Jan 1st Wow! There were 4 item packs here and everyone could adopt 2. It's uncertain which items were in which pack.



































Everyone also got this item pack:





Hanukkah
These items were released on Dec 11th, removed Dec (insert here)
The remarkable thing about these items is that the menorah when placed on a pet gained a candle for each day of Hanukkah creating the very first growing item!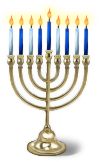 Christmas store items
[/img][img]

In relation to us getting a free item pack for our Christmas tree pet, there were also these different color packs for sale in the store.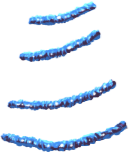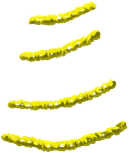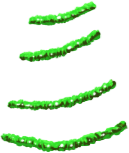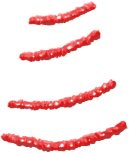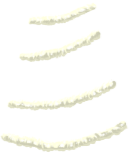 "Unreleased" Items
2009 also brought a few items which were only given out in small quantities.

The Rainbow Smoothie. For more information about this item, look <url=http://www.chickensmoothie.com/Forum/viewtopic.php?f=20&t=59382>here</url>.




Chicken-O flag, shirt, and hats. These items were given out as prizes in <url=
http://www.chickensmoothie.com/Forum/viewtopic.php?f=10&t=31092&
>Vampiric's art contest</url>.